HelloKatieO's #CBR4 Review #41: Then Came You by Jennifer Weiner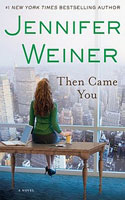 My love of Jennifer Weiner as an author, and cool human being, is well documented. I bought her most recent book during one of those epic delays at an airport, and it was fine. Honestly, "fine" is kind of disappointing for an author who's books I usually love. In Her Shoes and Good in Bed are two books I read over, and over, like comfort food.
Then Came You is the story of a baby, from the perspective of all the people who took part in creating its life. The egg donor at Princeton who sells her eggs to pay for her father's rehab. The surrogate mother who's military husband is frustrating she's selling her body because he can't provide for them. The infertile woman who waited her whole life to land a husband who could provide for her, who finds out her body can't have children. Her stepdaughter, who fears the infertile woman is a gold digger.