DragonDreamsJen's #CBR4 Review #56 The Heirs of Hammerfell by Marion Zimmer Bradley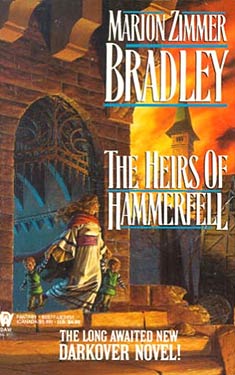 Written in 1989, The Heirs of Hammerfell was Marion Zimmer Bradley's return to Darkover's Hundred Kingdom era when the Domains on the planet of the red sun lay splintered into many feudal kingdoms.
Bradley had a certain fascination for characters who exchanged lives, identities or were mistaken for others.  Many of her most beloved characters led dual lives, were mistaken for others, exchanged places with someone from another culture or felt torn between two worlds.  The Heirs of Hammerfell is no exception to this plot formula.   It chronicles the saga of two twins born to an aging lord in the midst of a violent feud between two northern kingdoms.  Only one can inherit the title of Lord of Hammerfell, but when a vicious attack destroys the keep, the twins are separated and each grows up presuming the other dead.  Alastair, the eldest son and true heir to Hammerfell grows up in Thendara with his mother in relative comfort while the younger twin, Conn, grows up in hiding with the trusted Hammerfell servant who saved him that fateful night.
The rest of my review is posted on my Book Hoarding Dragon blog.